Check out this new Britt Nicole interview conducted by CCM! :)
Britt Nicole has spoken hope into the hearts and lives of teen girls and young women for years, but her biggest fans are smaller these days…much smaller. In addition to her musical accomplishments, she's also added "second time mom" to the list. In this excerpt, we highlight a few questions about the new remix album, and how music plays into motherhood.
CCM: So why the remix album, and why now?
BRITT NICOLE:
I wanted to give the fans some new music. I am working on a brand new record now, but until that comes out, I wanted them to have something new to enjoy. I also love to dance and thought it would be fun to reinvent some of these older songs and bring them back to life…I'm so happy with the way it turned out.
CCM: What is your favorite remix on the album?
BRITT NICOLE:
I would say my it's a tie between "Set The World On Fire" and "Holiday." "Set The World On Fire" is one of my favorite songs that I've ever written and it was on my first record, so I loved that we could bring it back to life. The remix that Neon Feather did truly inspires me and makes me smile. The "Holiday" remix by Mykidbrother is a bit more urban, and makes me want to roll down the windows on a sunny day!
CCM: Do you feel your target audience has changed, especially now that you're growing a family of your own?
BRITT NICOLE:
I feel like my demographic has grown but not changed. Yes, I can relate now with other wives and moms and learn from them, but my core audience is still teen girls. They are my heart!
CCM: What is your message to your audience, especially young girls?
BRITT NICOLE:
I want to encourage these girls to live their dreams, to be all God has called them to be, and to rest in the Father's arms because they are so infinitely loved.
CCM: How are you able to approach touring now?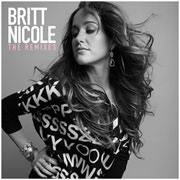 BRITT NICOLE:
It's harder now, but in the middle of the challenge I know my work has purpose so that keeps me going. I feel blessed — my family gets to travel with me, and we do everything together. When I feel like I should stop, I know that comes from a place of feeling inadequate. My husband is always quick to remind me that God has called me to do this. Philippians 4:13 is a verse I cling to, I know it's not time for me to stop making music, or touring, so we will just go as a family and make it happen.
I have been off the road for a few months waiting for Adin to arrive. Now that he is here, I will take some time with him and start touring again in the summer. I am stoked to get back out and start loving on all of the people that come to my shows. I make music for them so I can't wait to see their faces.
Credit: http://www.todayschristianmusic.com/artists/britt-nicole/features/life-remixed/